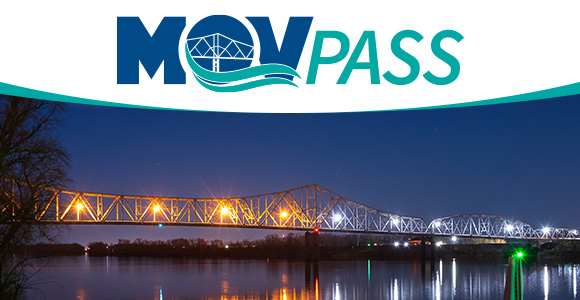 April 10, 2023

PARKERSBURG BRIDGE PARTNERS TAKING PRE-REGISTRATION FOR MOV PASS

(PARKERSBURG, W.VA.) Parkersburg Bridge Partners (PBP) announces that online pre-registration is now open for MOV Pass at ParkersburgBridgePartners.com. MOV Pass, the transponder issued by PBP, ensures the lowest rates for each vehicle class when open-road, all-electronic tolling begins later this year on Memorial Bridge.

MOV Pass will be required for customers selecting the $30/month unlimited subscription toll rate and for customers participating in the toll ticket credit program. Otherwise, the tolling system on Memorial Bridge will accept any funded transponder and account within the E-ZPass network as well as Pay by Plate (drive now, pay later – includes admin fees). The MOV Pass itself is a small sticker placed on a vehicle's windshield. It emits a signal that is detected by the toll system.

For those preferring to do business in person, PBP is securing a customer service center location. Here, customer can come to open an account, walk out with a MOV Pass in hand, and visit as needed for account and billing questions.

"Customers are asking what they can do to prepare for the reopening of Memorial Bridge," explains PBP general manager Terry Velligan. "The answer is pre-register! We will use the contact information you provide to communicate directly with you when it's time to create your MOV Pass account."

Pre-registration information will be used to email individual customers with further instructions for MOV Pass account creation on a new self-serve online system. Toll rates are available at ParkersburgBridgePartners.com.
ABOUT PARKERSBURG BRIDGE PARTNERS
Parkersburg Bridge Partners (PBP), owned and operated by United Bridge Partners, has entered into an acquisition and development agreement with the City of Parkersburg, W.Va., for the sale, rehabilitation, and modernization of Memorial Bridge. PBP will fund, design, build, own, operate, and maintain the bridge to a high standard. Our national-caliber design, engineering, construction, and operations team has substantial experience successfully delivering bridge projects across the United States. For more information about the Memorial Bridge project, residents are encouraged to visit parkersburgbridgepartners.com or follow PBP on Facebook and LinkedIn.