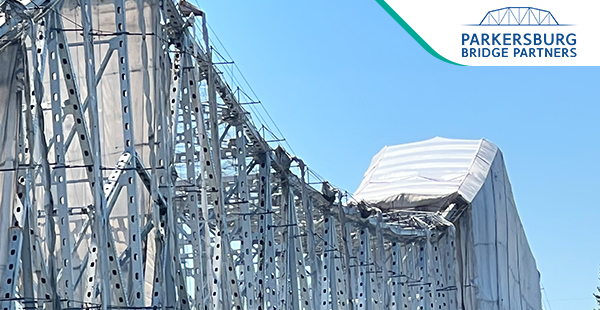 August 18, 2023

Memorial Bridge in Parkersburg Reopens to Traffic August 31 – Free to Drivers for Limited Time

A better bridge is worth the wait. And, the wait is nearly over. Memorial Bridge in Parkersburg will reopen to traffic August 31 after extensive rehabilitation and modernization, welcoming back commercial and freight traffic that was previously restricted. Tolling will follow at a later date with at least two weeks' notice to the community.

Parkersburg Bridge Partners will celebrate with a grand opening ceremony and "first drive for veterans" on August 31, 10-11 am, at the east end of Memorial Bridge. Proceeds will go to support the American Legion in Parkersburg and the Belpre Veteran's Association.

Parkersburg Bridge Partners' comprehensive rehabilitation of Memorial Bridge includes updates on all major bridge elements – an all-new concrete deck, reinforced steel truss, new paint and aesthetic features – extending the historic landmark's life for at least another 50 years.

Using local union labor and suppliers, the project has added nearly 300 new jobs and $38 million in local economic stimulus to the area.

Meanwhile, Parkersburg Bridge Partners is encouraging the local community – as well as commercial fleet owners and trucking companies – to get a MOV Pass to guarantee paying the lowest rates for each vehicle class once tolling begins.

There are three ways to create a MOV Pass account:

Online (fastest, most convenient method):

Visit the self-serve portal at mymovpass.com. After account information is verified, Parkersburg Bridge Partners will mail MOV Pass stickers to the address provided.

In person (only way to redeem toll tickets for credit):

Visit the temporary Parkersburg Bridge Partners Customer Service Center at 2001 Garfield Avenue, Parkersburg, WV 26101 (current hours here). Customers will walk out the door with MOV Pass(es) in hand.

By phone:

Call 855-643-4389, Monday thru Friday, 10 am – 7 pm, to speak directly with a customer service representative. MOV Pass stickers will be mailed to customers.

Commercial vehicles will be welcome on Memorial Bridge: businesses and commercial carriers are encouraged to reach out for personalized support at [email protected] or (681) 217-0086.

When creating an account, drivers will need:
Valid vehicle registration for each vehicle requesting a MOV Pass showing make, model, color, and license plate
Credit/debit card or ACH information
Valid photo ID (in person only)
Previously purchased toll tickets to receive MOV Pass credit – must submit tickets all at once (in person only)
Why create a MOV Pass account
The MOV Pass (or any other funded transponder account within the E-ZPass network) guarantees paying the lowest roll rate for each vehicle class. MOV Pass is required for those choosing the $30/month unlimited payment option.
Without a transponder (either MOV Pass or other within the E-ZPass network), vehicle owners will be charged the higher Pay-by-Plate rate (which includes administrative fees) and receive an invoice by mail.