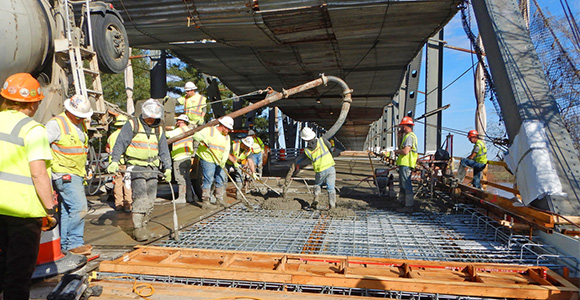 March 14, 2023

MEMORIAL BRIDGE REACHES MAJOR CONSTRUCTION MILESTONE

PARKERSBURG, W.VA. – Parkersburg Bridge Partners achieved a major milestone last week when crews began pouring concrete for the deck/driving pavement on eastbound lanes. Work on that section of the bridge began last Monday and will continue for another week, using cutting-edge fiber reinforced concrete with galvanized rebar for a long-lasting deck.

Local trade professionals and contractors performing the work are progressing well, thanks to the mild winter. Ironworkers from Kokosing Construction Company continue to work on steel repair. Northstar Painting is priming the steel repair area, and Davis H Elliot Company is progressing the electrical items for the bridge. Local engineers from Burgess & Niple are monitoring the work.

The bridge in on track to reopen at the end of the summer.

"We are happy to be able to provide some great news about our steady progress toward reopening Memorial Bridge to traffic," says Kevin Bischel, project delivery director. "We have a great crew – most of whom are from local unions – working daily to make this bridge a more reliable, direct, and convenient route for everyone. The deck pours are a significant milestone to achieving that goal."

Parkersburg Bridge Partners (PBP) is the owner of Memorial Bridge. A subsidiary of United Bridge Partners, PBP will fund, design, build, operate and maintain Memorial Bridge. A national-caliber, experienced design, engineering, construction, and operations team has been assembled to complete and maintain this project.

For more information about the Memorial Bridge project, visit www.ParkersburgBridgePartners.com or follow PBP on Facebook and LinkedIn.