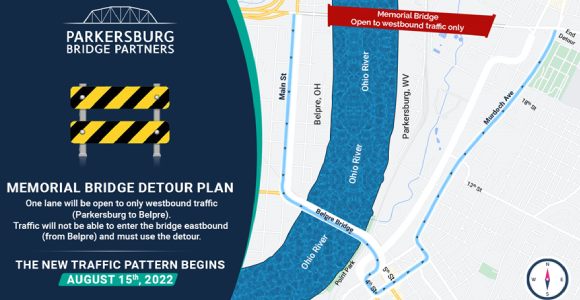 August 15, 2022

TRAFFIC PATTERN CHANGE AND TEMPORARY CLOSURES COMING TO MEMORIAL BRIDGE

PARKERSBURG, W.VA. — A traffic pattern change and temporary bridge closures are coming to Memorial Bridge.

Starting Monday, August 15, traffic will begin flowing only east to west bound. Vehicles will only be able to enter from the Parkersburg side of the bridge. Traffic from Belpre to Parkersburg will no longer be allowed and a detour will be provided. Cutting traffic down to one direction is intended to increase safety for both drivers and construction workers.

"Despite consistent efforts to remind drivers to stop for the remote stoplights on either end of Memorial Bridge, including the use of law enforcement, several drivers per day chose to run the red lights," said Jonathan Wallace, General Manager for Parkersburg Bridge Partners. "Drivers willingly traveling toward oncoming traffic put the public and our construction workers at risk. Cutting traffic down to one direction only is intended to put a stop to this issue."

Memorial Bridge is currently undergoing a full rehabilitation, which will result in a modernized bridge with a minimum service life of 50 years. The project is expected to be complete in late 2023. Bridge improvements include:
New paint and coating system
Complete deck removal and replacement
Replacement of existing bridge handrail
Replacement of bearing pads, steel bearing rehabilitation, and other steel superstructure repairs
Concrete pier and column repairs
New LED roadway and decorative changeable colored lighting
Repaved and improved bridge roadway approaches
In addition to the traffic pattern change starting August 15, temporary full bridge closures are also coming as sections of the new bridge deck are poured. Memorial Bridge will be closed to traffic from 12 a.m. to 12 p.m. August 17, 18 and 19. The one-way traffic pattern discussed above will be effect from 12:00 p.m. to 12:00 a.m. on days noted.
"Pouring sections of the new bridge deck is a major milestone for this project," said Ken Szeliga, Vice President of Construction and Operations for United Bridge Partners. "Cast-in-place concrete spans are replacing the former steel grate deck and will provide a longer, useful life for Memorial Bridge."
Concrete is poured at night to maintain temperature control and impact traffic as little as possible.
"We appreciate the drivers who followed the traffic signals, 25 miles per hour posted speed limit and drove without distraction across Memorial Bridge. Our goal remains to keep the bridge open to traffic and safely operating throughout the rehabilitation process," said Wallace. "We understand the traffic pattern change and temporary closures will disrupt the community and continue to work toward solutions that maintain safety at all times."
As a reminder, the weight limit on Memorial Bridge is ten tons and height clearance is 13 feet, six inches. Oversize loads are not allowed on the bridge during construction.
A detour map will be released later this week, and signs will clearly mark the detour route.
About Parkersburg Bridge Partners
Parkersburg Bridge Partners (PBP) is the owner of Memorial Bridge. A subsidiary of United Bridge Partners, PBP funds, designs, builds, operates and maintains Memorial Bridge. PBP has assembled a national-caliber design, engineering, construction and operations team with substantial
experience successfully delivering bridge projects across the United States.
For more information about the Memorial Bridge project, residents are encouraged to visit www.parkersburgbridgepartners.com or visit Parkersburg Bridge Partners on Facebook and LinkedIn.